---
Dominica
---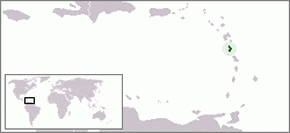 The Commonwealth of Dominica or Dominica (do not confuse with the Dominican Republic) is an island in the Caribbean Sea, located between the two French islands of Guadeloupe and Martinique.
Capital
Roseau
Political system
Parliamentary republic. The president is the head of state. The Prime Minister is the Head of Government.
Official language
English. Creole language is also widely spoken by the local population.
Currency
East Caribbean Dollar (XCD)
Economy
Dominica's economy is based on agriculture, light industry, tourism and offshore services sector.
Corporate law
The International Business Companies Act of 26 June 1996
The International Exempt Trust Act, 1997
The Exempt Insurance Act, 1997
Legislative system
Based on English common law
Types of companies
International Business Company (IBC)
International Business Company (IBC)
For a company in Dominica there is no requirement for payment of share capital. The authorized capital may be formed in any currency.
There must be a registered office in Dominica and registered agent.
Company name can be in any language and should indicate the legal status of the company.
To register a company minimum of one director and shareholder are required (this may be one and the same natural or legal person, a resident of any country). Director does not have to be the owner of the company.
There is no requirement to have a secretary.
No requirement for the annual meetings of shareholders, but if the need arises, it can be held anywhere in the world, by telephone or other means of electronic communication, provided that all participants can clearly hear each other.
There is no requirement to provide information about the owners and directors of the company in the State Registration Chamber.
Shares can with or without par value, in any freely convertible currency. It is enough to issue one share to open an IBC company.
No restrictions on the conduct of any lawful business or investment activities outside of Dominica, except banking, trust or insurance, which require a special license. IBC company has no right to derive income from sources in the country of registration and own property in Dominica.
An annual audit of the company is not required.
Taxation
No corporate income tax, property tax and inheritance tax. Moreover, transactions made by the trust manager are also not taxable. Offshore Companies in Dominica are exempt from all taxes for at least 20 years.
Currency control
None
Agreements on avoidance of double taxation
No agreements. There are two agreements on exchange of information with the United Kingdom and Canada.