---
France
---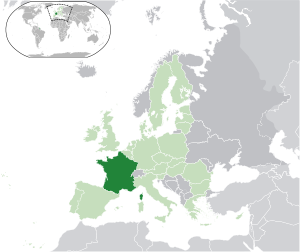 France is located in Western Europe, bordered by Belgium, Luxembourg, Germany, Switzerland, Monaco, Italy, Spain and Andorra. It has the largest territory among countries in Western Europe and is one of the five permanent members of UN Security Council.
Capital
Paris
Government
Democratic Republic
Official language
French
Legal system
Based on civil law
Economy
France is the 6th economic power in the world, a highly developed industrial-agrarian country. It occupies a leading position worldwide in terms of industrial production. A traditional feature of French economic policy is a large proportion of the public sector, particularly in strategically important areas. Agriculture is the most state-ward branch, although the basis for it is private ownership of land. Approximately 30% of GDP is spent on social needs.
Currency
Euro (EUR)
Corporate law
Commercial Code
Forms of companies
Closed limited liability company (SARL)
Open Joint Stock Company (SA)
Limited Partnership (SCA)
Partnerships with unlimited liability (SNC)
Closed limited liability company (SARL)
SARL is allowed to provide banking and insurance services. Activities suitable for such form of company are real estate management, as well as audit activities and legal advice but under certain conditions.
Requirement of payment of the share capital has been canceled, and now the authorized capital offor SARL may be equal to 1 euro. However, banks and lenders more likely to trust companies with authorized capital.
SARL may issue only registered shares, which require the approval of other shareholders of the company when transferring to third parties.
Legal and natural persons - residents of any country in the world can be shareholders. The minimum number of shareholders in the SARL is two, the maximum is 100.
The directors may be residents of any country in the world that are of legal age and had no criminal record. All foreign nationals must obtain a work permit to work in France. The company can manage a corporate director, but definitely needs to appoint an individual as Managing Director. The minimum number of directors to SARL is one.
Open Joint Stock Company (SA)
The minimum capital for S.A. is 38,000 euros. 50% of the capital has to be paid at the time of registration.
S.A. may issue registered shares and bearer shares. Shares of such companies can be freely transferred to third parties without the approval of other shareholders.
In S.A. there must be a minimum of seven shareholders.
The minimum number of directors for the SA is three. All directors must be shareholders of the company.
Taxation
Companies registered in France are taxed on a territorial basis at the rate of 37% of the profits. Income tax is not charged on holding companies if the parent company belongs to the jurisdiction with which an agreement on avoidance of double taxation. The rate of tax on business activity does not exceed 3.5% of the profits derived from activities. Capital gains tax is equal to 19.5%.
Filing of financial statements, audit
Each company must maintain a current accounting, which reflects its financial activities. Reports should be submitted no later than March 31 each year following the reporting period. Auditor's report is required only for the companies in which the number of employees is over 50 people, turnover for the financial year is above 500,000 euros, or total assets exceed 200 000 Euro.
Information available on request of third parties
Company name, registered office, registration number, authorized capital, the names and addresses of directors and shareholders, and accounts payable.
Agreements on avoidance of double taxation
Australia, Austria, Algeria, Argentina, Bahrain, Bangladesh, Belgium, Benin, Ivory Coast, Bulgaria, Bolivia, Brazil, Burkina Faso, Cameroon, Canada, Gabon, Germany, Greece, Denmark, Egypt, Eritrea, Ethiopia, Israel, India, Indonesia, Jordan, Iran, Ireland, Iceland, Ireland, Italy, Cambodia, Cameroon, Canada, Croatia, Cyprus, China, Congo, Kuwait, Lebanon, Luxembourg, Mauritania, Mauritius, Madagascar, Malawi, Malaysia, Mali, Malta, Mexico, Monaco, Nigeria, The Netherlands, New Zealand, Norway, United Arab Emirates, Oman, Pakistan, Poland, Portugal, Russia and all CIS countries, Romania, Saudi Arabia, North Korea, Senegal, Serbia, Montenegro, Singapore, Slovakia, USA Thailand, Togo, Trinidad and Tobago, Tunisia, Turkey, Philippines, Poland, Central African Republic, Czech Republic, Sweden, Switzerland, Sri Lanka, Sudan, Zambia, Zimbabwe.