---
Gibraltar
---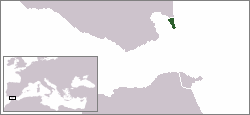 British overseas territory, located in the south of the Iberian Peninsula on the Strait of Gibraltar. Includes a Gibraltar rock and sandy isthmus that connects the rock with the Iberian peninsula. The naval base of NATO, EU member.
Capital
Gibraltar
Official language
English
Currency
Gibraltar Pound (GIP). British pound is freely convertible.
Government
Constitutional monarchy. Queen of Great Britain is the Head of State, represented by the Governor.
Economy
The economy of Gibraltar is focused on servicing the naval and air force bases of Britain, transit port and foreign tourists. There are small sewing factories, plants producing beer and mineral water. Agricultural production is not made.
Legal system
Based on English common law
Corporate law
Companies Ordinance Act
The Gibraltar Trustee Act
Income Tax Act, 2010
Trustee Investments Ordinance
Directive 78/660/EEC (The Fourth Directive) as amended
Directive 83/349/EEC (The Seventh Directive) as amended
Directive 83/350/EEC (sharing of confidential banking information)
Types of companies
Non-Resident Company
Private Company Limited by Shares
Public Company Limited by Shares
Company Limited by Guarantee
Exempt Private Company
Branch Overseas Company
General Partnership
Limited Partnership
Sole Proprietorship
Trusts
Foundations
Non-Resident Company
The authorized capital of the company is declared, there is no requirement for mandatory payment and the minimum amount of capital.
Types of shares: ordinary, preferential shares, shares with or without voting rights.
Any activity not prohibited by law is permitted. There has to be a special license for conducting banking, insurance and reinsurance, trust services.
Data on the shareholders appear on public record, but you can remain anonymous by appointing nominee shareholders. The company must be a minimum of one shareholder.
Company name shall not not be identical or similar to existing ones.
The minimum number of directors is one. Corporate directors are allowed. Directors may be of any nationality. Information about directors is included in public records, nominee directors are allowed.
The company secretary must be resident in Gibraltar.
A meeting of directors shall be conducted in any country at least 1 time per year.
Companies are legally obliged to keep books and pass annual accounts audited. The annual report must contain detailed information about the directors and shareholders. For small businesses, instead of the audit it is sufficient to file a financial report.
Documents kept at the registered office are the register of shareholders and directors.
Company information available at request of third parties - the names and addresses of directors and shareholders, registered office, memorandum and articles of association.
Trust
Provisions of the Hague Convention, except for the provisions of inheritance and adoption of foreign judgments apply to Trust. The law provides for protection against creditors of the trust assets, provided that the founder is a natural person, and that he was not insolvent at the time of setting up a Trust.
Founder transfers ownership of real property or personal property to a trustee who manages trust in favor of one or more beneficiaries.
Form of creation of a trust is oral or written.
No fees or restrictions on the accumulation of funds.
Typically, trust is created for a period of 100 years.
Purpose Trusts are not provided, because legislation on such type of trusts have not yet been developed.
Taxation
No property tax, capital gains tax, gift tax or value added tax.
Agreements on avoidance of double taxation
No agreements. Gibraltar has signed an agreement on exchange of information with Malta, the Netherlands, the Faroe Islands, South Africa.